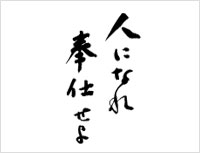 A Motto with the Spirit of Serving Society
Kanto Gakuin University is a university with history and tradition originating from the Yokohama Baptist Theological Seminary which was established in Yamate, Yokohama in 1884. Kanto Gakuin University which has a Christian school philosophy, inherited the phrase "Be human and serve the world" from Tasuku Sakata (the first principal of Kanto Gakuin Junior High School). This phrase means "to improve one's character with the teachings of Christ and to serve society with the love of Christ."
We have continued to concentrate all our efforts into character building based on Christian values as well as the education of highly knowledgeable and skilled people. We have done so because we believe that this will nurture people who contribute to society. As a higher education institution, we will continue to carry out this mission in today's society.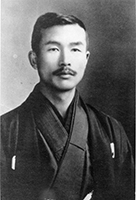 The Foundation of this Spirit
From the day our history started with just five students at the top of the hill overlooking the harbor, the "Spirit of Serving Society" was born on the foundation of Kanto Gakuin University teachings based on the teachings of Christianity, doing one's best for the people and society. These prosperous actions also lead to one's growth. Small challenges, which were unintentionally started by small interests, will unnoticeably change into valid "actions". When one feel irreplaceable happiness, one will notice things that have a large effect on their future and the way they live.
"Be human and serve the world"
The motto that Tasuku Sakata, the first school principal started at the first entrance ceremony for Kanto Gakuin Junior High School in 1919 still lives on as our foundation of this spirit remains unchanged. It is an important element in order to build a better society.
Tasuku Sakata, the first principal of Kanto Gakuin Junior High School inherited the "Boys, be ambitious!" spirit from Inazo Nitobe and Kanzo Uchimura, Sapporo Agricultural College alumni who received education from Dr. William S. Clark and who also studied the Holy Bible under Kanzo Uchimura. While attending First Higher School, he attended Nitobe's lecture about Thomas Carlyle's "Sartor Resartus", and learned the saying "Boys should think about what needs to be done before choosing their course of action. Boys need to think before doing."
At the first entrance ceremony for the school, the Christian spirit was strongly preached and became the school motto. In order to express this spirit more specifically, "Be human" was emphasized and "Doing one's best for the people, the society and mankind" was preached. Thus, the school motto became "Be human and serve the world."