College of Intercultural Studies

Fostering Talent That Can Participate in a Multicultural Society
While developing the ability to use English as a global language, students also acquire knowledge of the cultures and languages of countries in Asia and Europe. Students develop skills for mutual understanding of people from differing educational, religious, and lifestyle backgrounds, aiming to transcend differences in language and culture, on a global scale.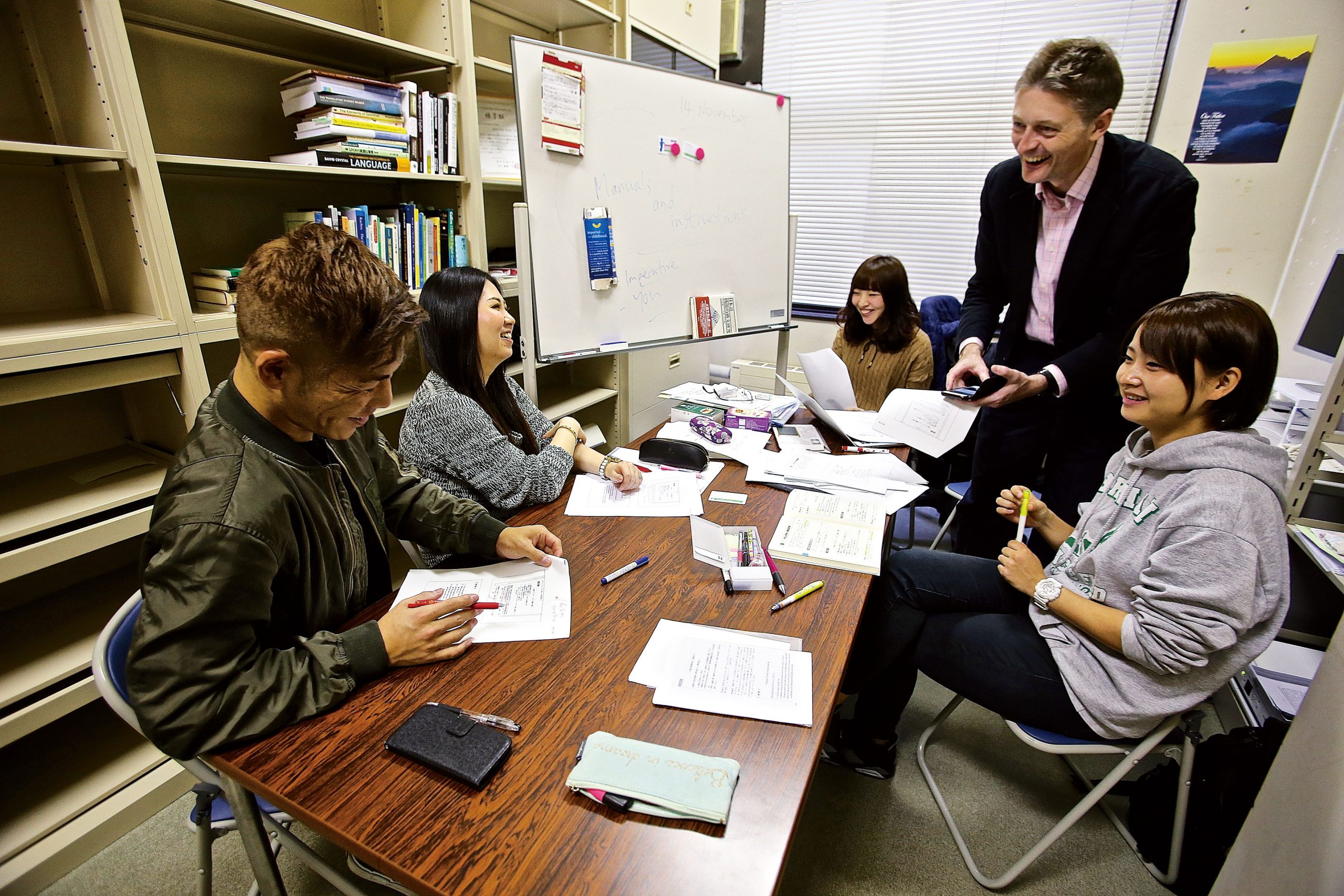 Department of English Language and Culture
Acquiring English Ability to Thrive in the Era of Globalization
Within the Department of English and Culture, which consists of the fields of English communication and English-speaking culture, students not only acquire English proficiency, but also perform academic study of the culture, literature, and history of the Anglosphere, and the mechanics of the English language.
Additionally, to provide opportunities to utilize the acquired knowledge, we offer various training programs both inside and outside of Japan, and students who wish to become teachers can learn theories of practical English acquisition methods.
Through this whole process of learning English, students deepen their understanding of different cultures and education while they acquire the skills needed to play active roles in the international community.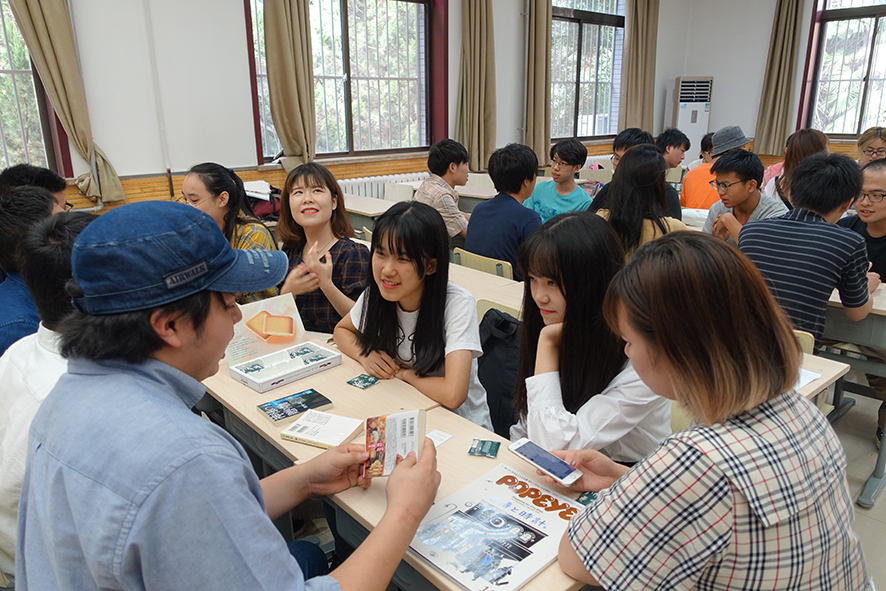 Department of Comparative Cultural Studies
Becoming Creators of a Multicultural, Inclusive Society by Cultivating a Spirit of Intercultural Understanding and Coexistence
The Department of Comparative Cultural Studies' educational goals are to cultivate a spirit of cross-cultural understanding and harmonious coexistence, to deepen understanding of Eastern and Western cultures and history in addition to Japan's, and to enable students to obtain knowledge of how to compare and recognize history, mutual relationships, and other exchanges between Japan and other cultures. In addition to English, students can study German, French, Spanish, Chinese, and Korean. They can also learn the mechanics of the Japanese language and teaching methods, which opens the path to becoming teachers of Japanese. We develop talented people who can contribute to the realization of a multicultural society by developing aspects of inclusivity and understanding within their own countries and being interested in the languages, cultures, and histories of other countries as well.
College of Sociology

Acquiring Problem-Solving Skills for Societal Issues
Students learn both sociology, to study and analyze modern society, and social welfare, to apply knowledge and use it in practice. Students acquire the ability to develop solutions to social problems by analyzing social issues and understanding sociocultural backgrounds, forming a better tomorrow.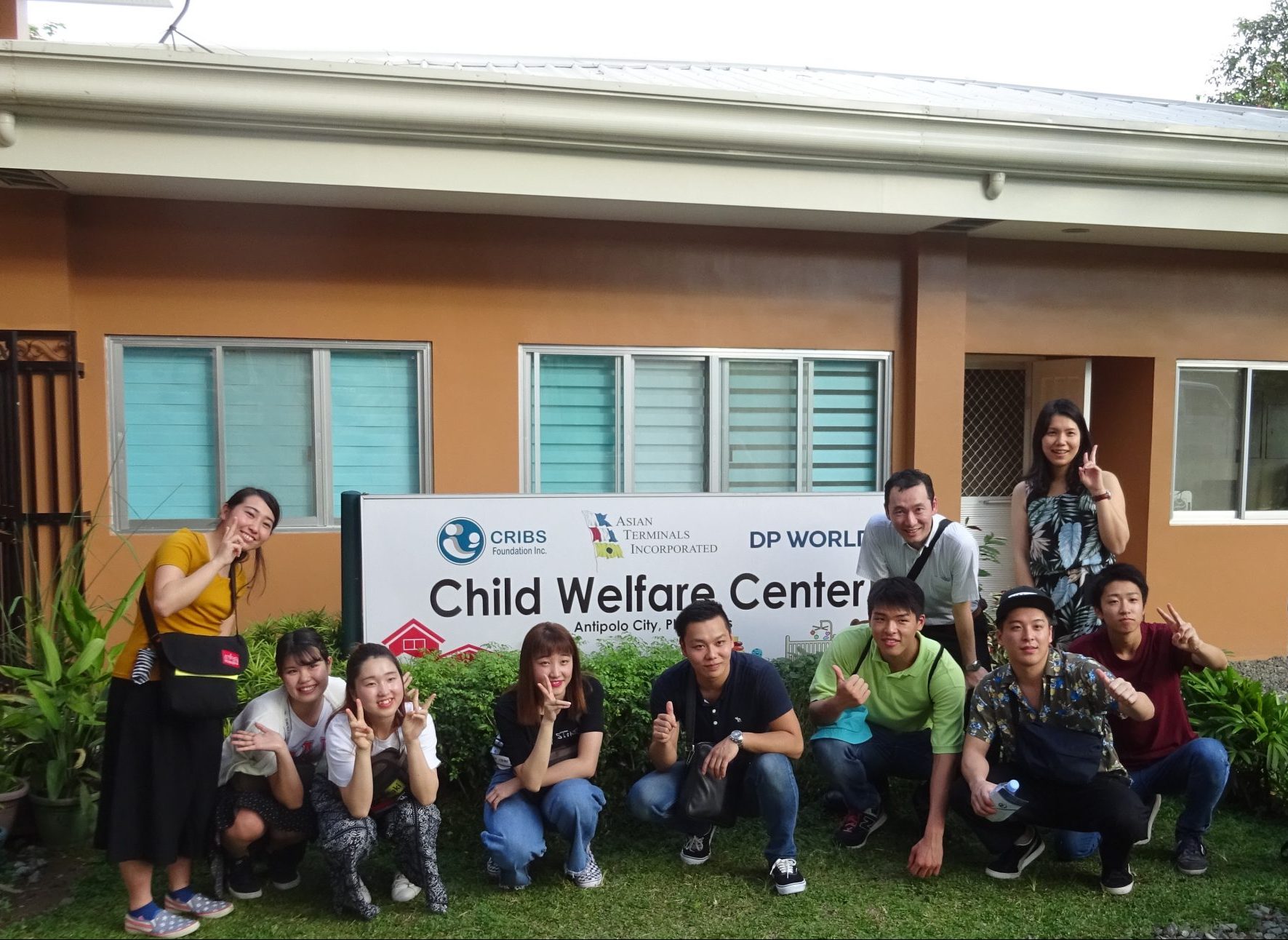 Department of Sociology
Understanding the Diversity of Society and Developing Problem-solving Skills with the Goal of Mutual Understanding
Centered on the two fields of Sociology and Social Welfare, students acquire a wide-ranging education and practical skills. Emphasizing experiential learning in the field, we use sociological research methods, such as interviews and statistical surveys, to cultivate creativity and practical ability to find and implement equitable solutions to various problems related to people and society. We seek to develop talented individuals, with an excellent sense of human rights and public mindedness, who can contribute to the formation of multicultural societies and the realization of social welfare, fostering global communication skills to play active roles in the international community.
College of Law

Studying Law to Make Fair and Impartial Decisions
In the Department of Law, students learn to examine issues arising between people, groups, and nations from legal, social, and statistical perspectives, seeking solutions in order to improve society. In the Department of Law for Regional Development, students obtain knowledge and skills based in the field of law to develop conceptual frameworks and practical skills to apply to problems of regional development.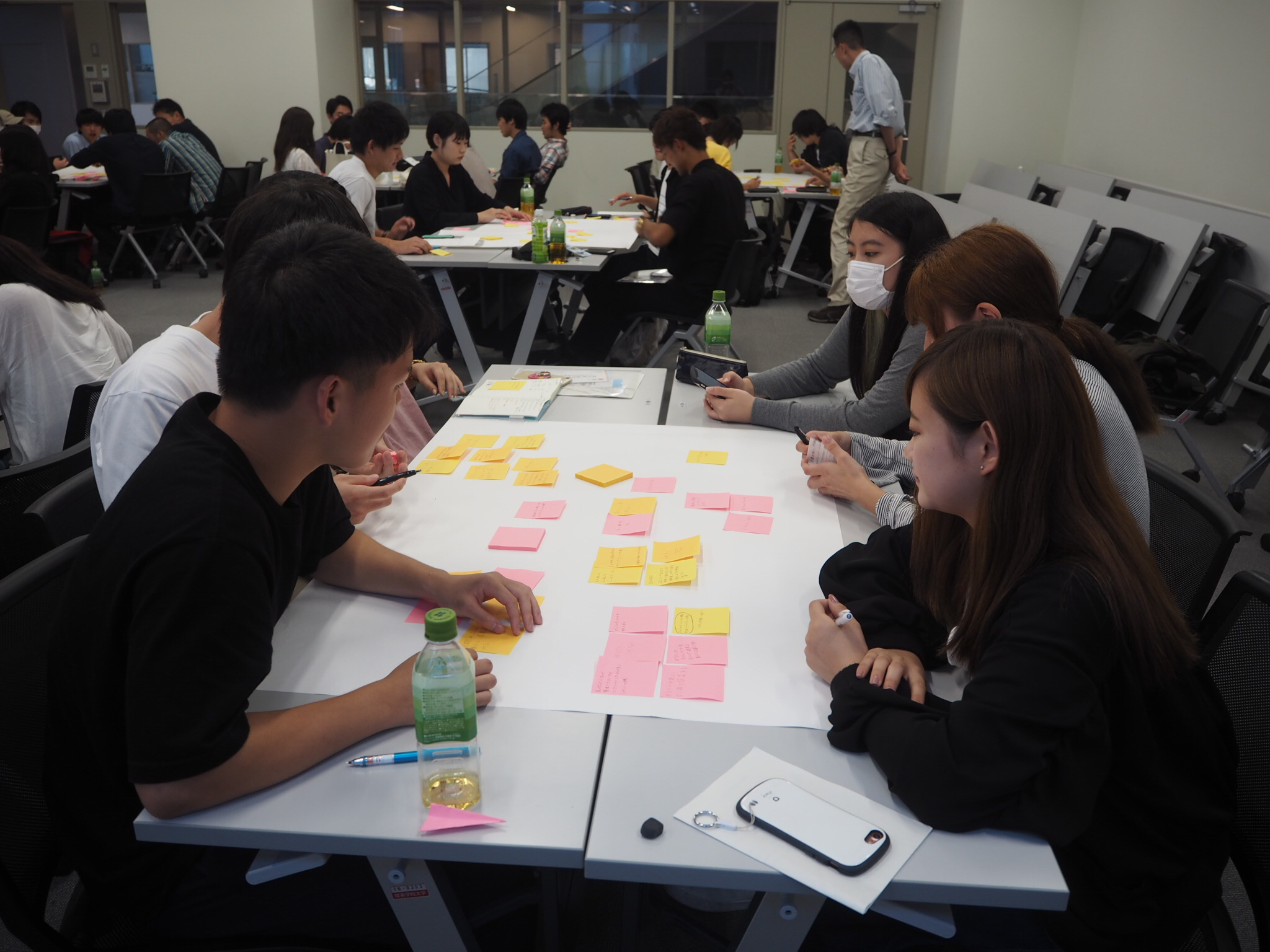 Department of Law
Innovative Learning of the Traditional Discipline of Law
In the first year, students systematically study the "Six Codes" of Japan, the basic theories and history of law, such as the basics of law, constitutional law, civil law, and criminal law, in order to cultivate legal minds. From the second year, students obtain specialized knowledge by selecting from among four diverse and progressive courses: Judiciary, Administration and Policy, Public Security, and Law and Business. In the specialized courses, students actively listen to various opinions, cultivate fair and impartial judgment to find solutions, and acquire real world, practical, ready-to-use skills while learning from specific examples and judicial precedents surrounding them.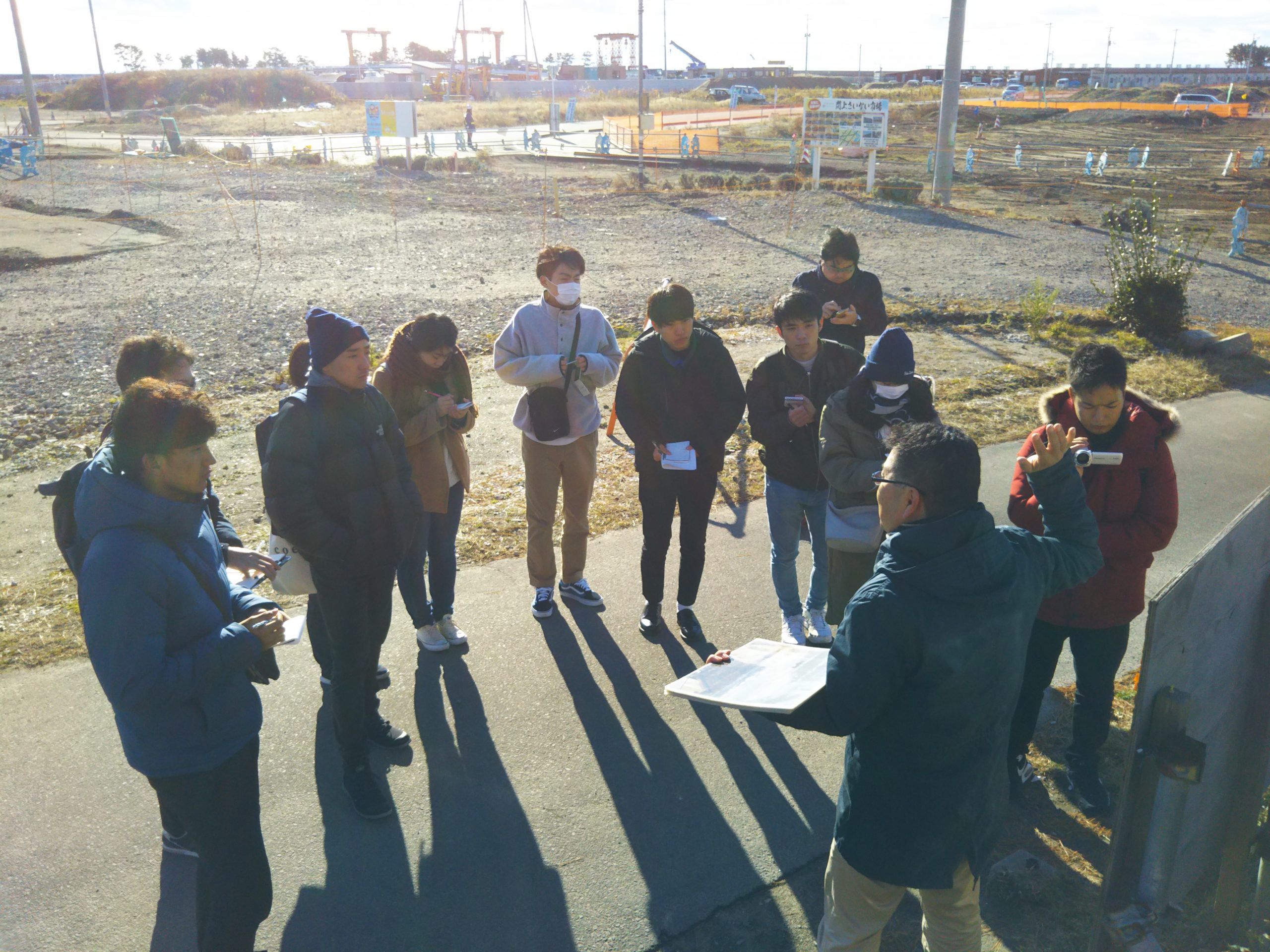 Department of Law for Regional Development
Learning from the Diverse Region of Kanagawa
Based on the knowledge and skills of the legal field, we foster community-oriented talents who can take the lead in community development so that people can live safely and securely within a perspective that goes beyond the conventional framework of law. We offer two courses, the Regional Design Course, for the creation of a prosperous, sustainable, inclusive society, and the Regional Safety Course, to realize a safe, secure, inclusive society. Students develop ideas and practical skills for regional revitalization while engaged with social change up close, using opportunities to learn from the latest, real-life situations and issues of local governments in Kanagawa Prefecture, the city of Yokohama, and other local municipalities.
College of Economics

Analyzing Flows of Resources to Create Sustainable Societies
Students address economic activities between nations, companies, and households, learning to optimize production and distribution with limited resources in order to fulfill the needs of ever-developing societies. Students acquire a broad understanding of global and Japanese economics and develop the economic perspectives and logical thinking skills needed in a global, information-driven society.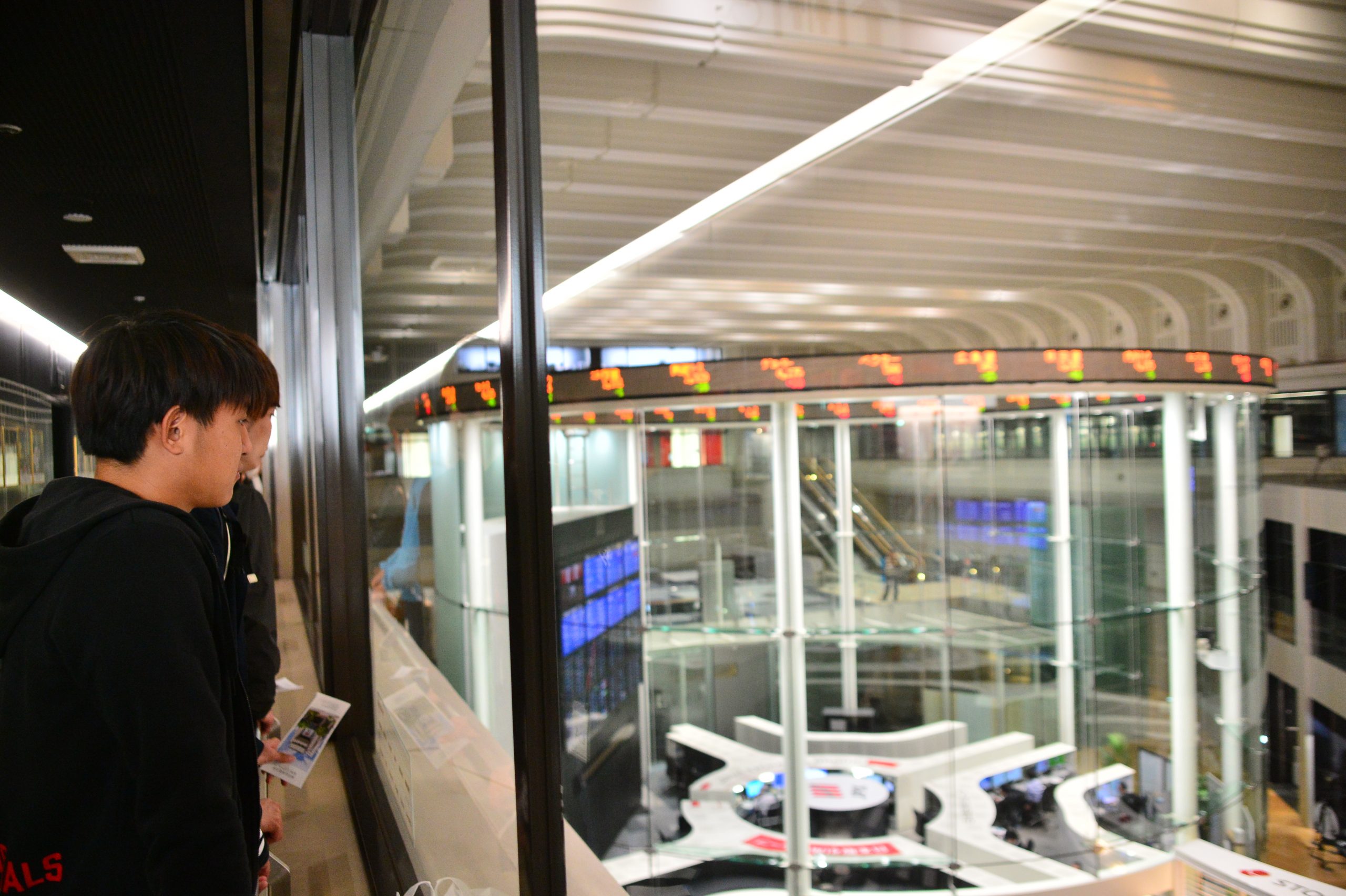 Department of Economics
Exploring and Creating an Economic Society where Everyone Can Have a Sense of Fulfillment 
In the Department of Economics, students systematically develop the vision to take part in society by acquiring analytical skills to assess social trends accurately.
In the first year, students mainly learn basic knowledge of economic activities, including their purposes, challenges, and real-world implications. From the second year, students deepen their specialized learning by choosing a course suiting their interests from the three courses of Industry and Finance, Public Economy, and International Economy. While learning specialized knowledge, students acquire the abilities to think independently and convey their ideas in an easy-to-understand manner, through attending small-group seminar-style lessons, engaging in active learning and taking part in globally competitive personal development programs, enabling them to be active both inside and outside of Japan.
College of Business Administration

Studying Business through Practical Application
In cooperation with the supporting companies of the K-biz education platform, students learn practical business management through collaborative projects with these corporations. Additionally, from the first year of study, students have practical learning opportunities, such as project planning, to expand their capabilities.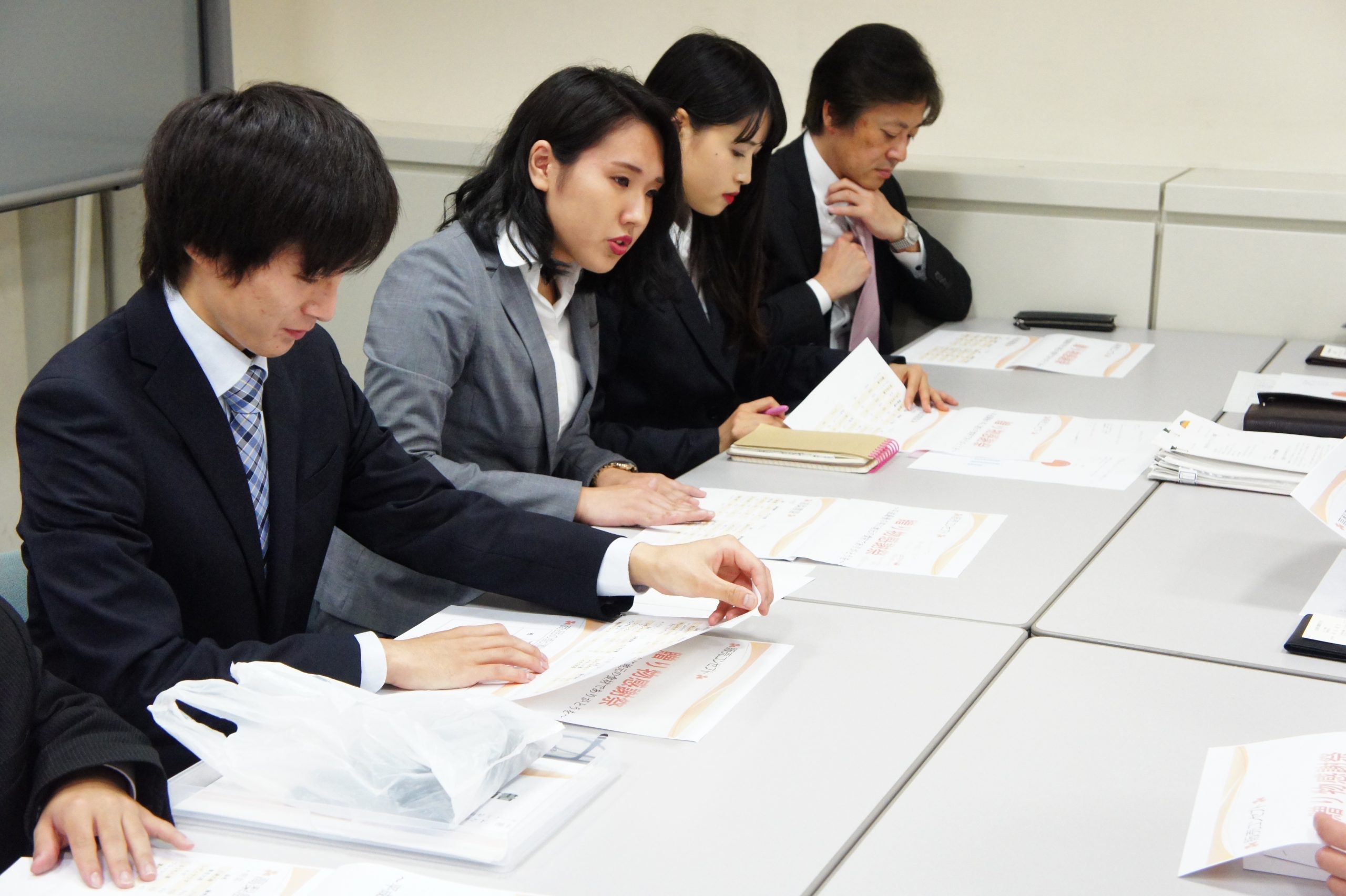 Department of Business Administration
Researching Organization and Company Management and Exploring Practical Management
To learn the management theories necessary to manage companies effectively, it is necessary to go to the front lines of actual management. The Department of Business Administration offers a completely new educational program combining our "K-biz" program with business plan education.
Students acquire practical skills by using the knowledge learned in the classroom to find solutions for problems raised by partner companies: proposing solutions, having proposals evaluated, making corrections to proposals, and making proposals again. Besides the knowledge of specialized fields, students develop communication skills and the ability to act independently and proactively that is required to meet the needs of society.
College of Science and Engineering

Investigating Natural Law and Developing Future Technologies
Science and engineering observe the natural world, determining its basic laws and structures, which are then applied to develop technologies that provide safer, more convenient, and more comfortable lives. Specialized curricula allow the acquisition of wide-ranging scientific and engineering knowledge.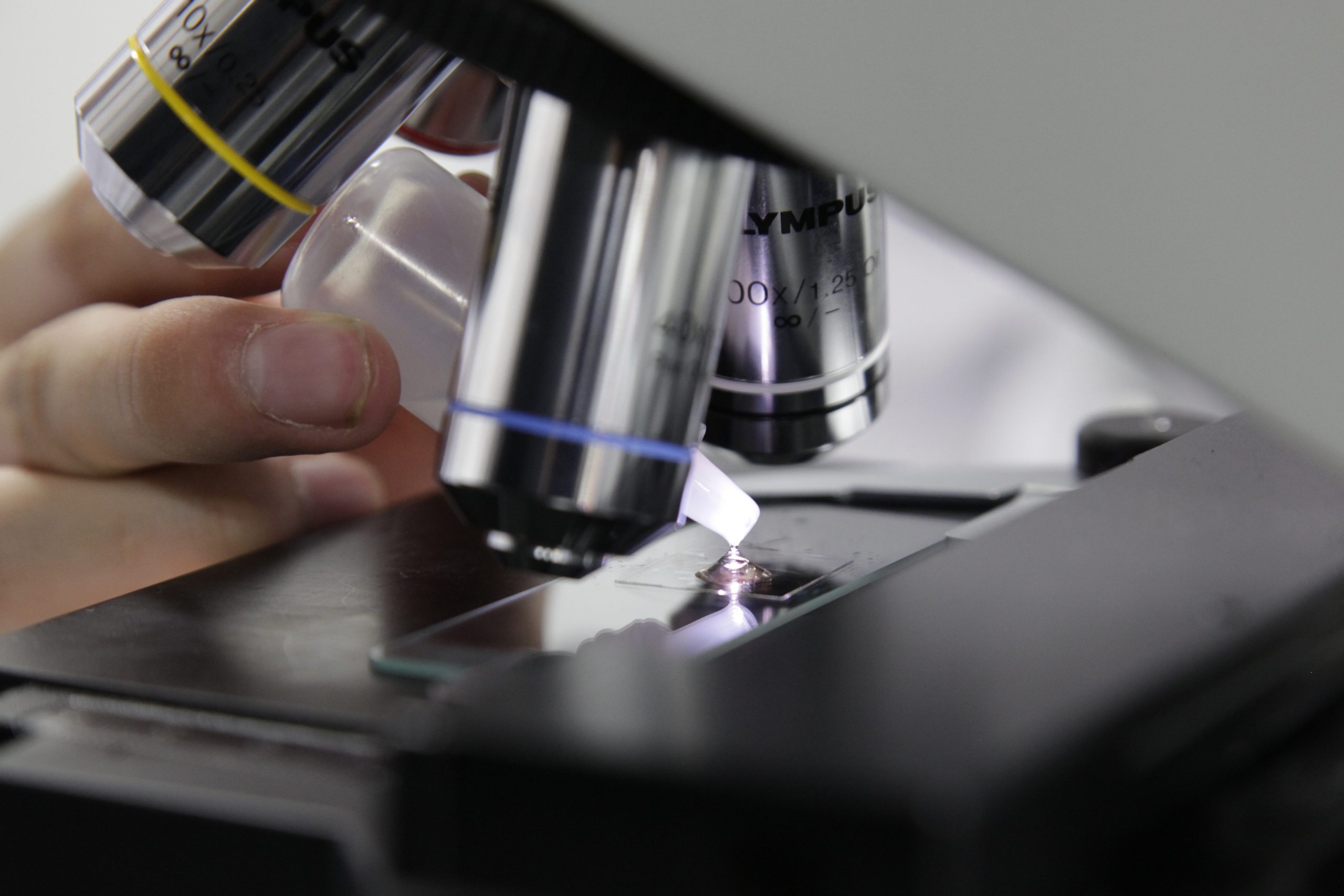 Bioscience Course
Cultivating Experts in Life Sciences with a Wide Range of Knowledge and Techniques in Biotech
Life science is an ever-evolving discipline, within which the ability to respond to new knowledge and technologies is essential. The Life Sciences Course has a wide range of subjects, including microbiology, cell biology, molecular biology, biochemistry, organic chemistry, food science, and ecology. And with a wide range of experimental classes using the latest equipment, such as gene analyzers, fluorescence microscopes, mass spectrometers, and real-time PCR systems, students are able to acquire advanced biotechnical expertise and practical skills. Encouraging students to find challenges and solutions to those challenges through lectures, experimental classes, and graduation research, the course emphasizes two-way communication between students and faculty members in order to develop expertise in a variety of industries, such as pharmaceuticals, medicine, agriculture, and ecology.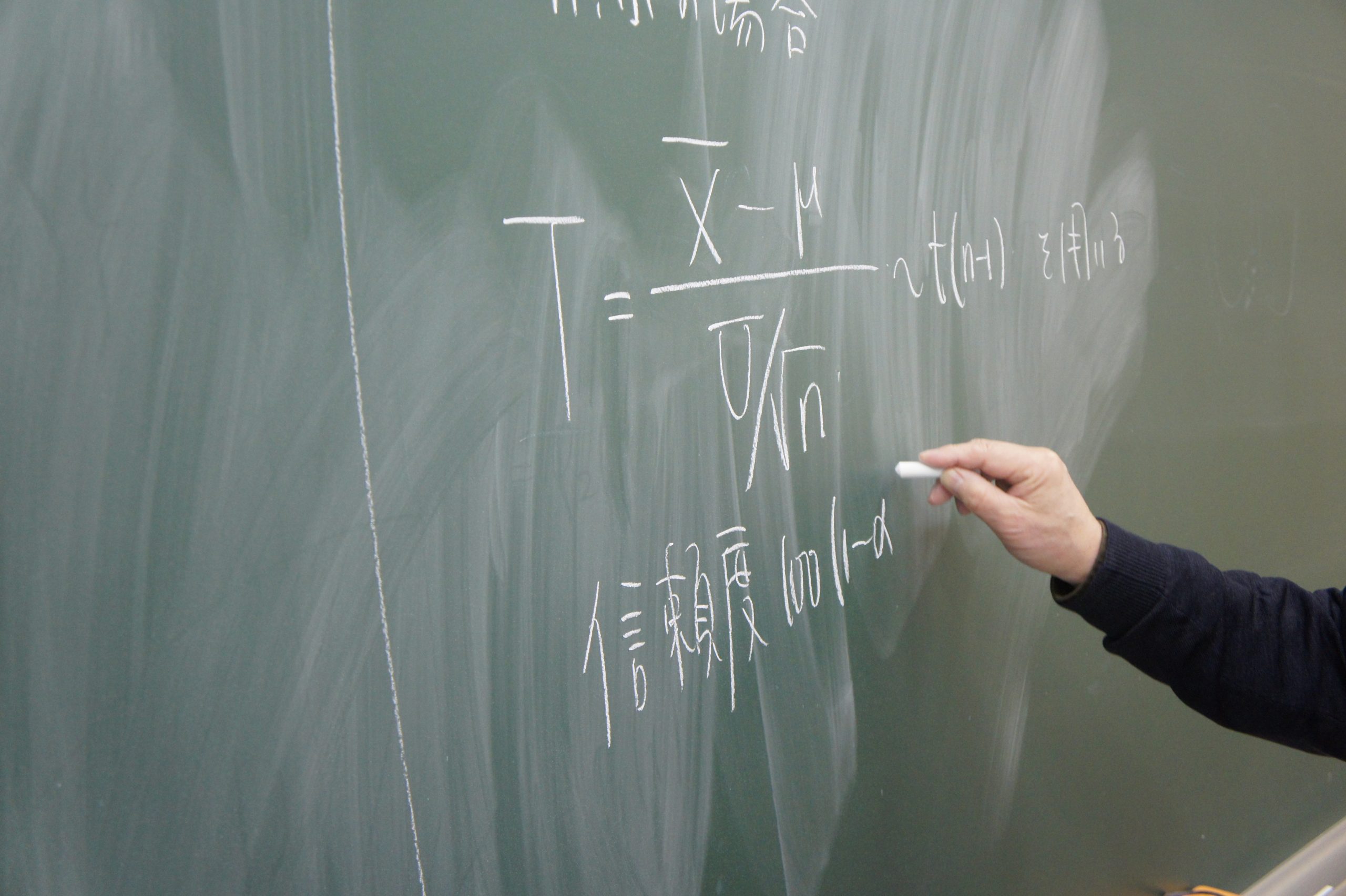 Mathematical Sciences and Physics Course
Developing Analytical and Critical Thinking Skills by Studying the Mathematics and Physics that Support Science 
The advanced technologies that enrich our lives develop from the results of fundamental research in fields such as physics and mathematics. By studying these two fields and deepening their understanding of the close relationships between them, students develop the ability not only to find the best solutions for problems with answers, but, further, to find solutions for problems where answers are not yet known. A variety of subjects lead to obtaining teacher's licenses for junior high and high school mathematics, promoting initiatives for improving the human and teaching skills of those who wish to become teachers. Through four years of study, students acquire the critical thinking skills useful for analysis of various fields of society.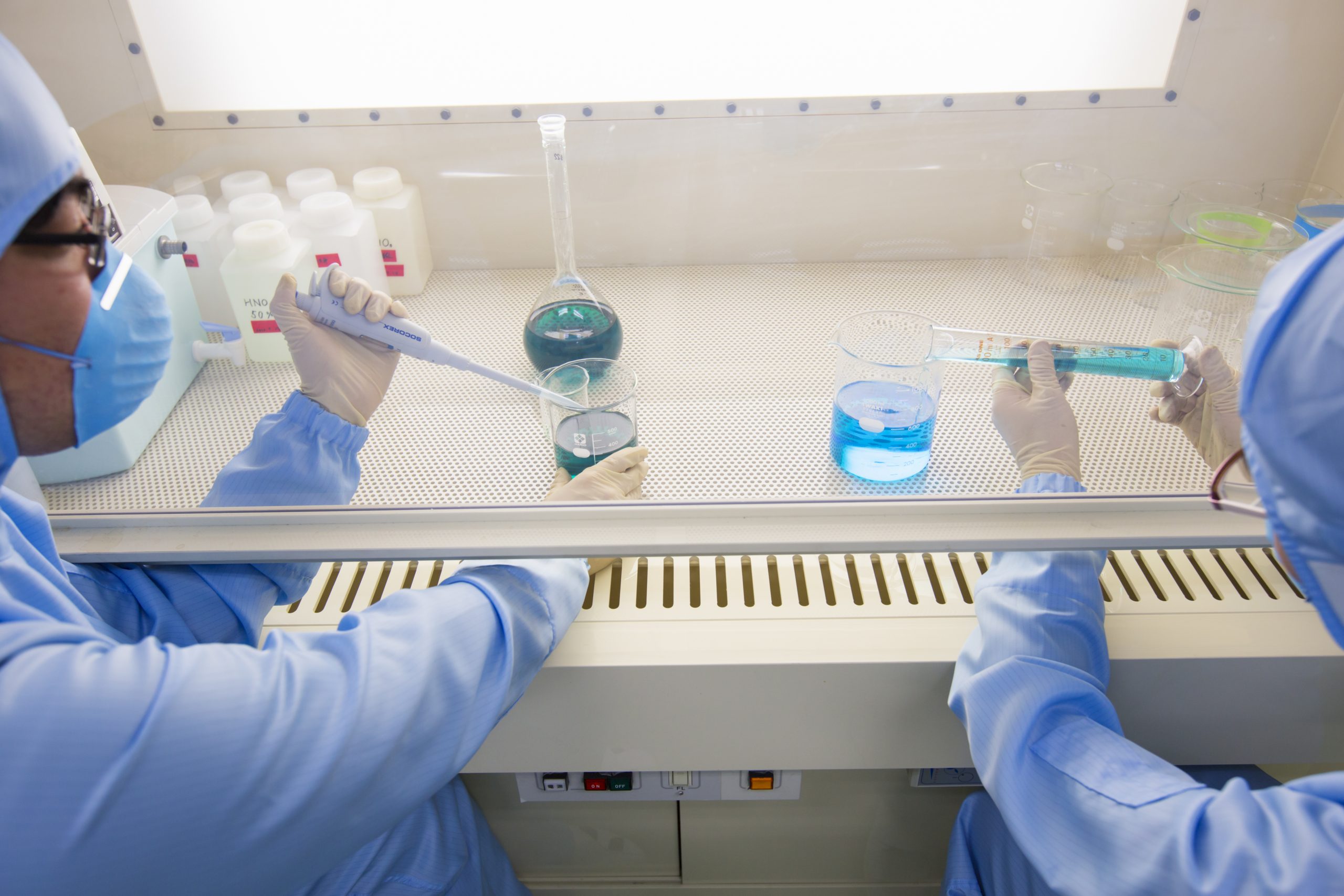 Applied Chemistry Course
Cultivating Fundamental Chemistry Skills and Social Skills to Create Manufacturing Processes for a New Era
In the Applied Chemistry Course, importance is placed on the development of fundamental chemistry skills and social skills, so that students can contribute to society by offering specialized technical capabilities in chemistry, manufacturing, and plant construction industries. Fundamental chemistry addresses basic skills in five fields: inorganic chemistry, organic chemistry, physical chemistry, analytical chemistry, and chemical engineering. Social skills include engineering ethics, problem-solving abilities developed through group research, and the acquisition of knowledge of intellectual property rights. Kanto Gakuin University was the first in the world to make practical application of plastic plating technology. With these abilities in mind, we cultivate talents who are passionate about creation in this new era.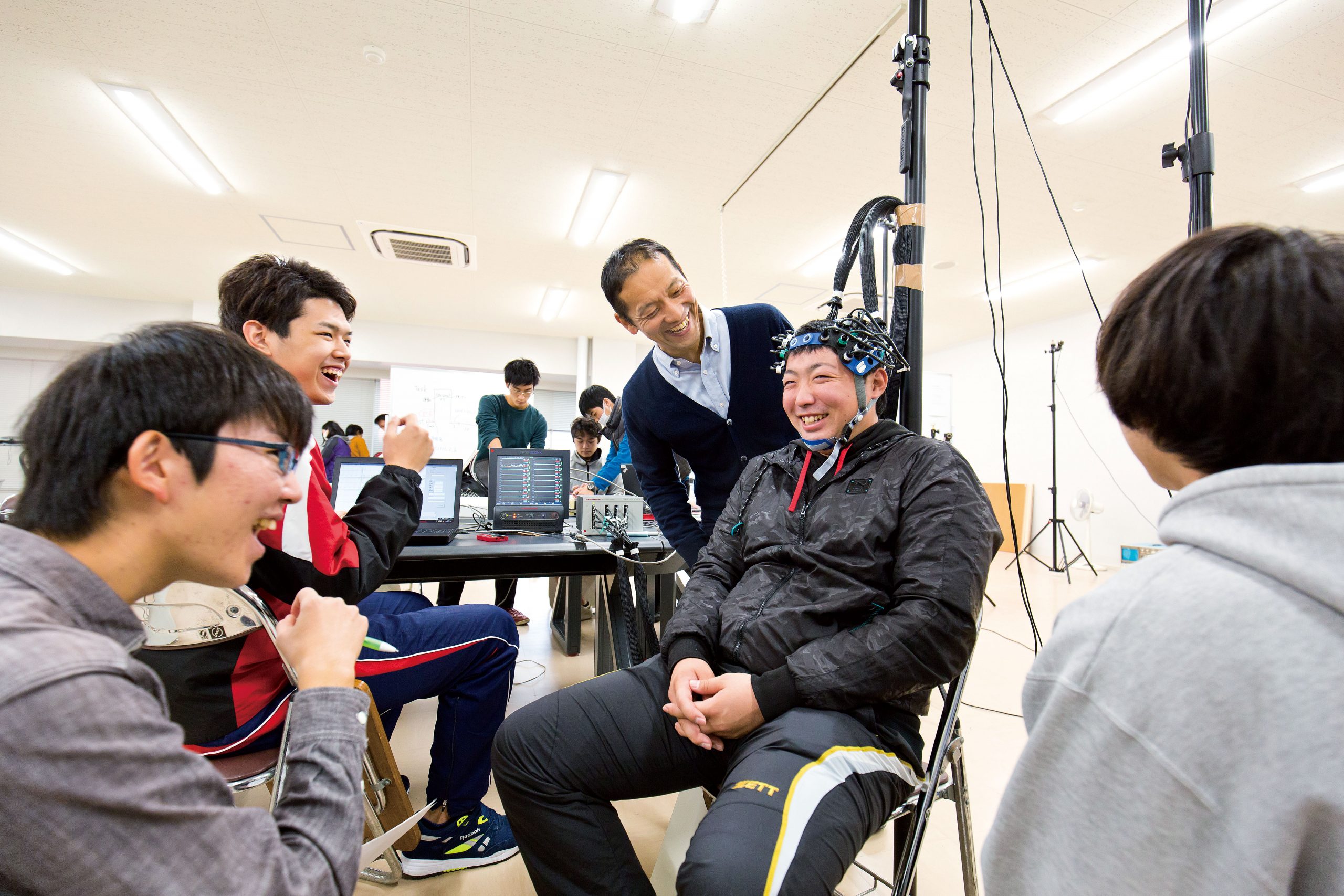 Health and Sports Technology Course
Scientific Analysis of Human Health and Movement to Discover New Frontiers
In the Health and Sports Technology Course, we focus on knowledge and skills used to apply the science and technology of what we call "Human Metrology", to get to know people better.
Human Metrology consists of two fields, the field of health and sports science, based in anatomy and exercise physiology and elucidating how physical movement is actually performed, and the field of human informatics metrology, used to understand the advanced information processing functions created by the nerves of living organisms, including humans, and to express them in biophysical and mathematical models. The course produces talents who can support athletes using specialized knowledge and techniques through scientifically analyzing body movements with monitoring devices such as motion capture, electromyography and electroencephalography.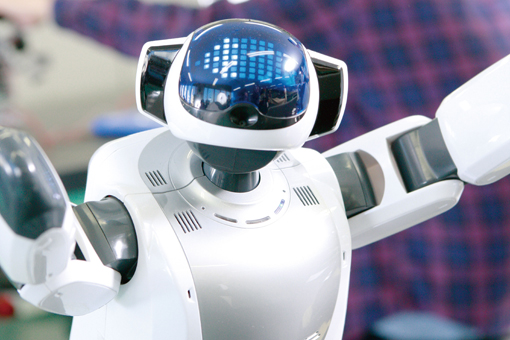 Advanced Mechanical Engineering Course
Fostering Mechanical Engineers who Can be Active around the World.
Mechanical engineering must tackle all the challenges that society faces, from those of everyday life to those of manufacturing, information systems, and even aerospace. Therefore, in the Advanced Mechanical Engineering Course, students study the basic mechanics of materials, thermodynamics, mechanical dynamics, and fluid mechanics, to develop specialized learning in three majors: General Mechanics, Automobiles, and Robotics according to the student's own interests. In the small-group project-type study, students work on design and manufacturing tasks for each major within fixed budgets, competing in off-campus contests to further expand their capabilities.
We foster engineers who can create the future based on the abundant knowledge, imagination, and communication skills they acquire in the classroom and cultivate through project-type education.
Electrical and Electronic Engineering Course
Learning the Latest in Electrical and Electronic Engineering to Become the Engineers of Tomorrow
In the Electrical and Electronic Engineering Course, students learn both hard and soft skills based in the four fields of Energy Systems, Nano Electronic Devices, IT Systems, and Communication Systems, which are the bases of contemporary manufacturing. In addition to subjects providing the knowledge and techniques to advance to graduate school to do research and development of advanced technology, required subjects also lead to the qualification of chief electrical engineer. Since the university is an accredited school for the chief electrical engineer qualification, it is possible to obtain qualifications by taking a certain curriculum and gaining practical experience after graduation. As basic technologies, such as electricity, electronics, information, and communication technology, continue to advance toward the realization of an ultra-smart society, we foster engineers and researchers who will lead the next generation.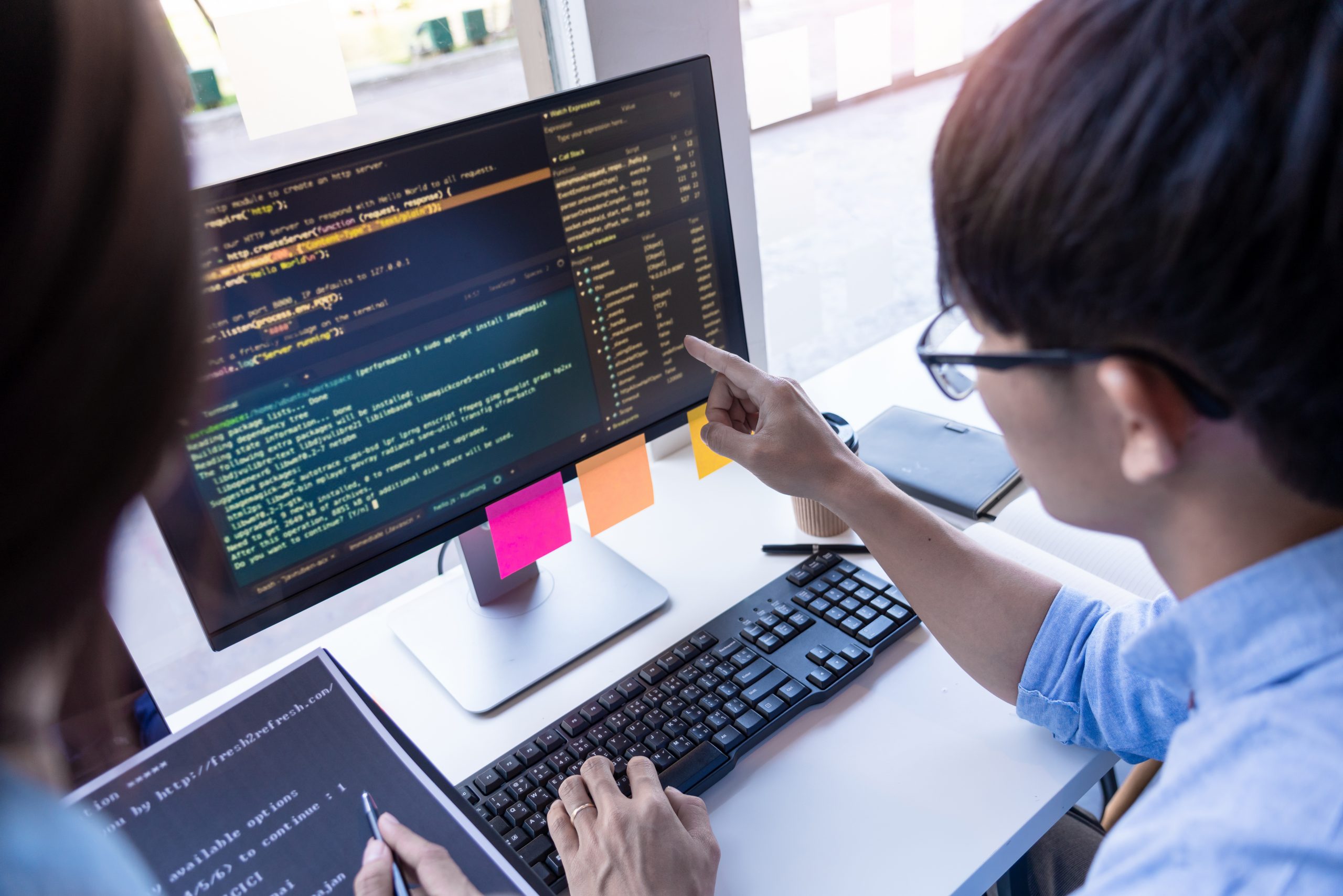 Networking and Multimedia Course
Learning the Mechanics and Structures of IT to Cultivate Engineers who Give Shape to Flexible Ideas
In the Networking and Multimedia Course, students learn the basic mechanics and structures of information technology in the three fields of Information Engineering, Networking, and Multimedia.
In the composite information field that combines these three fields, students learn about the information technology used to apply computer information processing to problems such as traffic systems and measurement control systems. The ongoing progression of information technology, incorporating artificial intelligence and moving toward an ultra-smart society, presents major lifestyle changes to all people. With a firm grounding in information technology, we foster engineers who can grasp the mechanics of computers and systems from the perspectives of both users and developers in order to give shape to flexible ideas.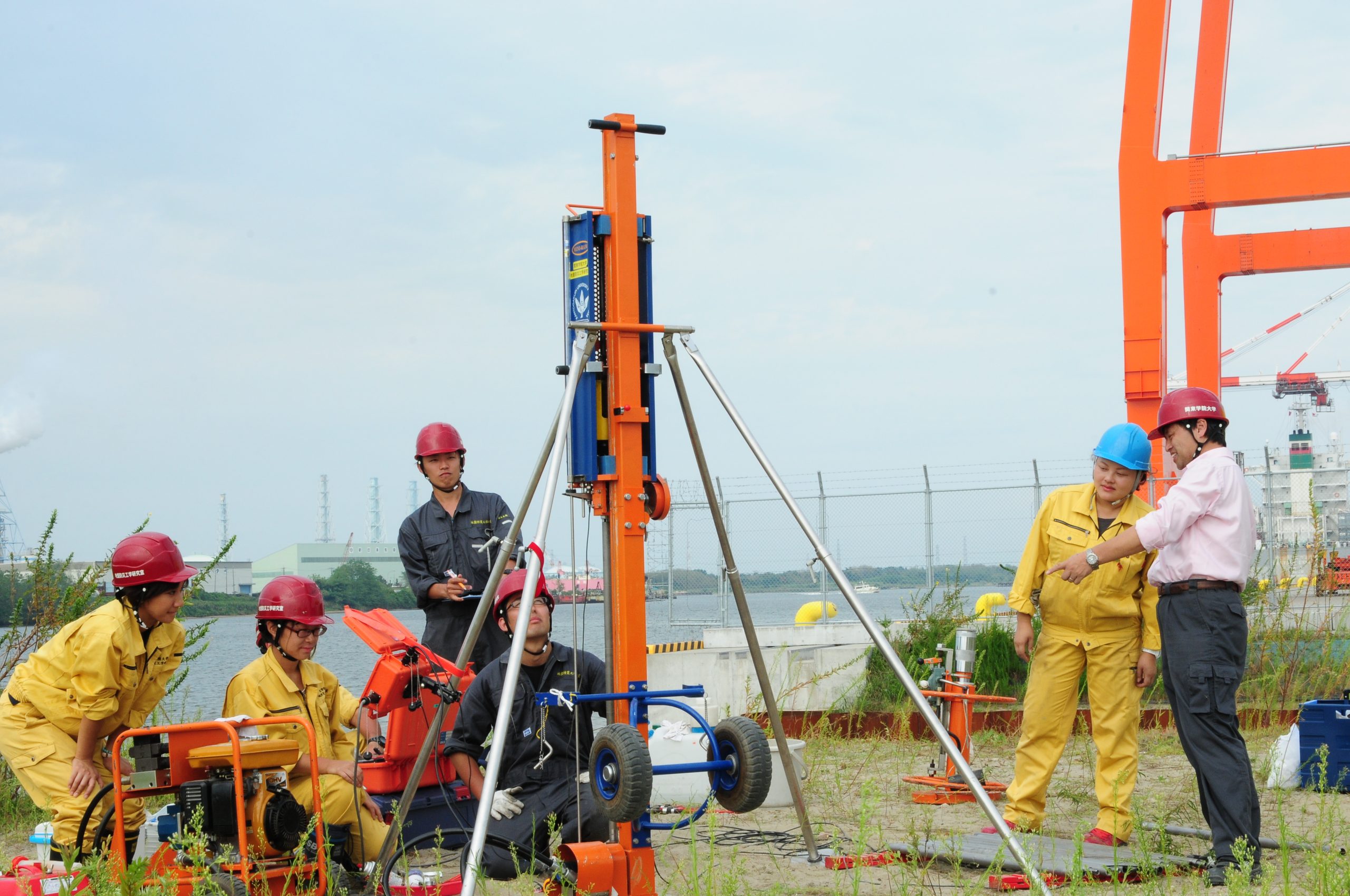 Civil Engineering Course
Cultivating Engineers to Create Comfortable Cities that Can Weather Natural Disasters
In the Civil Engineering Course, students obtain a range of knowledge and skills to create safe and prosperous cities that can also protect human lives and structures from natural disasters such as earthquakes and typhoons. Students are trained to reclaim ground and construct structures that can withstand earthquakes. Students  not only learn about urban development from the  viewpoint of what structures are involved, but they also learn from the viewpoint of forward-looking social consciousness to create environmentally friendly cities on a global scale to support sustainable and high-quality lifestyles. We foster engineers who can exemplify and manifest the desire to protect their loved ones.
College of Architecture and Environmental Design

Applying Broad Perspectives to Create New Spaces and Lifestyles
In addition to traditional architecture, the department offers a unique curriculum that incorporates humanistic and sociological perspectives to formulate a new discipline built on the axes of Time, connecting the past to the present and to the future, and also Environment, surrounding all of us. Students develop their imaginative abilities and techniques to cultivate these abilities to make new architectural spaces.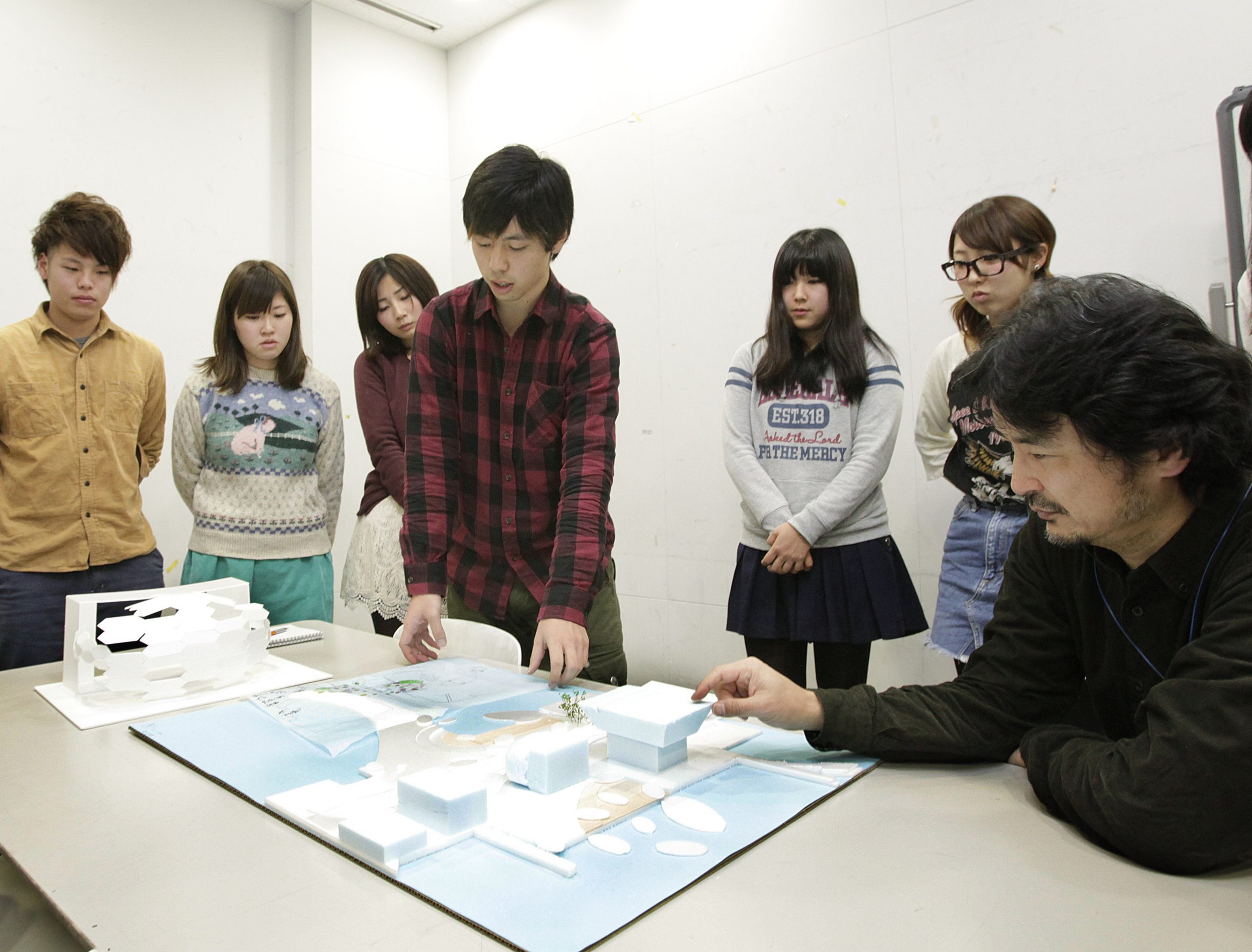 Department of Architecture and Environmental Design
Honing Creativity and Technique to Create New Spaces and Lifestyles
Constructing the study of Architecture and Environmental Design along the two axes of Design/Engineering and Architecture/Environment, the department provides five distinctive courses: Architecture Design, Architecture and Urban Regeneration Design, Living Design, Environmental Symbiosis Design, and Architecture Engineering (Structure, Material, Construction). Building No. 5, which is the main learning building of the Department of Architecture and Environment Design, is itself used as teaching material for studying architectural technique and is of benefit for students. From the multifaceted perspectives of cities, architecture, housing, and the environment in architecture and environmental studies, we foster architects and engineers who can pursue and respond to the wide range of needs of modern society, such as the integration of design and engineering, coexistence with the environment, improving the sustainability of life, and maintenance, utilization, and revitalization of existing societal resources.
College of Interhuman Symbiotic Studies

Learning Communication and Design Based in Multicultural Symbiosis
Students acquire the ability to collaborate and forge new connections with others from the point of view of multicultural symbiosis. In this modern era, we seek answers about new relationships between people, organizations, communities, society, and nature. In the Department of Communication, students learn communication skills that incorporate perspectives from media, psychology, and culture, in addition to language. In the Department of Symbiotic Design, students learn how to design what they have envisioned to create these new relationships.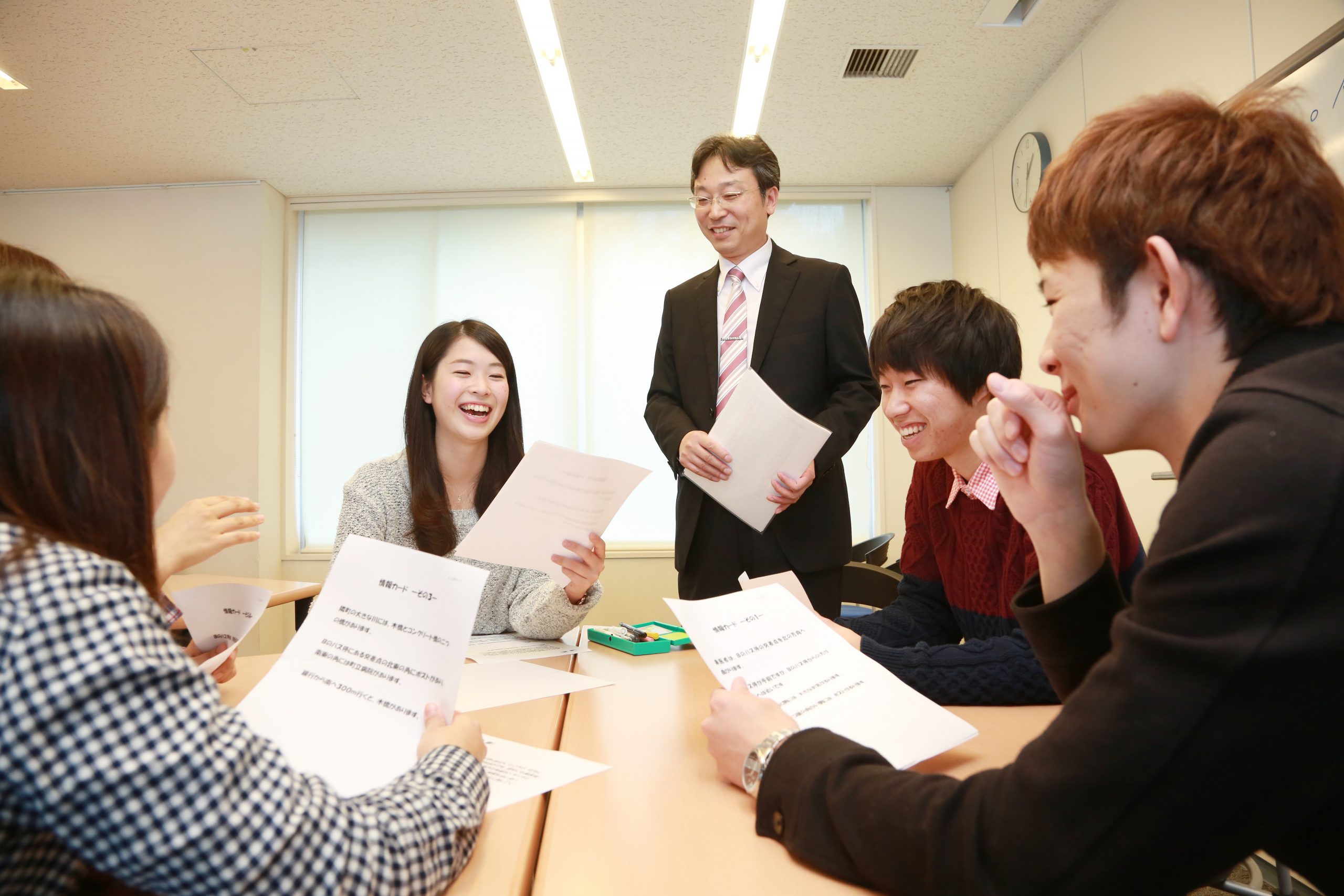 Department of Communication
Acquiring Skills to Build Relationships in a Diverse Society
Modern society consists of people with diverse cultures and values.
In the Department of Communication, students study the communication skills necessary for living in modern society from the perspectives of three areas: media, business psychology, and globalism. Students develop the abilities to objectively observe the essence of things and accurately convey these observations to others. They also develop the ability to speak languages other than their native tongues and the ability to collaborate within organizations while respecting individuality. In a Project Subject scheduled in the spring semester of the third year, students practice integrated learning of the three areas mentioned above, making use of curricula such as long-term stays abroad, internships at companies in Japan, and other similar initiatives. Students who wish to and meet certain conditions can enter a double degree program with a university in the United States or Australia, simultaneously obtaining bachelor's degrees from Kanto Gakuin University and the partner institution upon graduation. We aim to foster talented individuals who can play active roles as members of inclusive societies by acquiring communication skills to build relationships with people with diverse cultural backgrounds and values.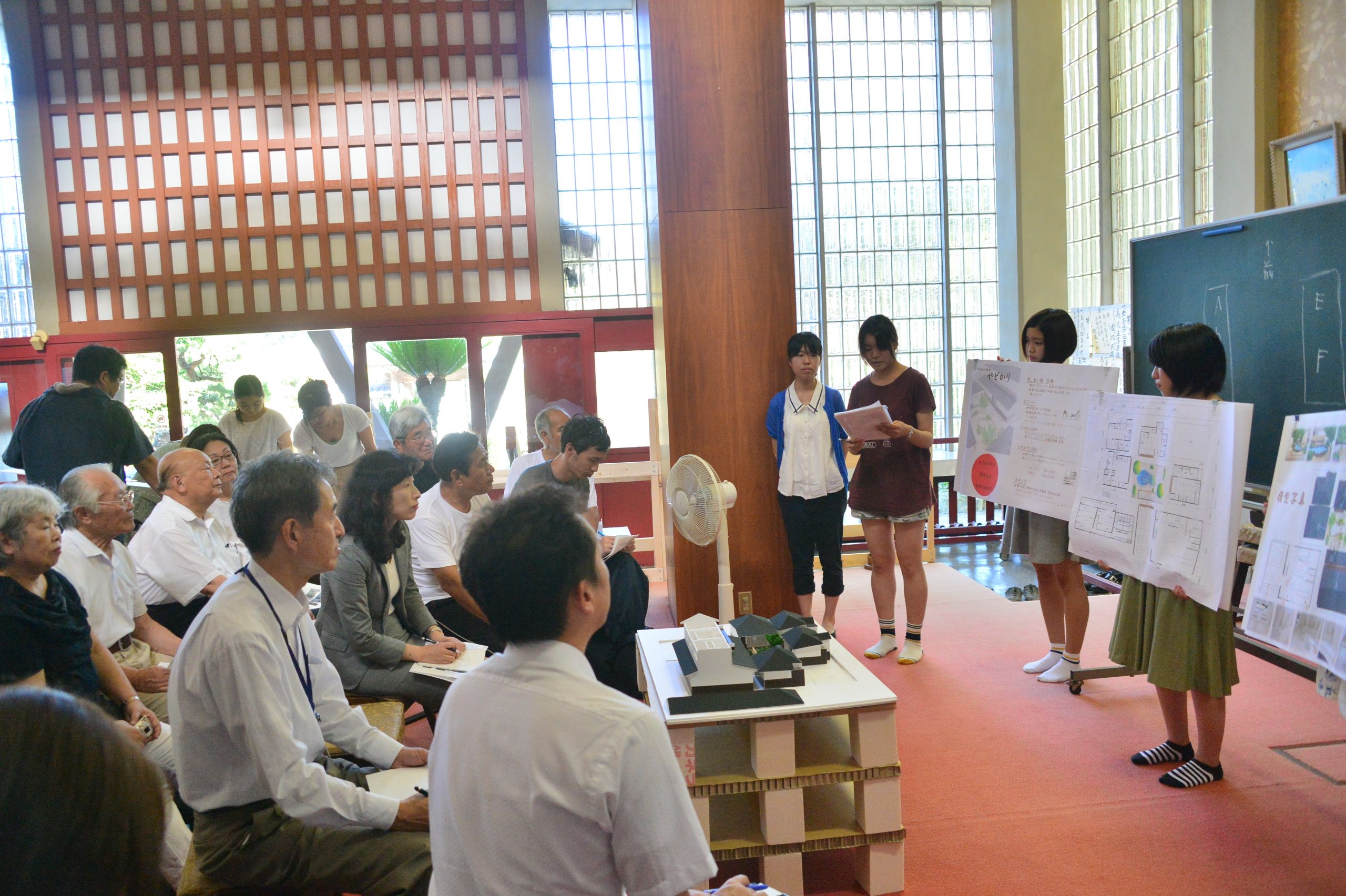 Departmenof Symbiotic Design
Cultivating Conceptual and Expressive Skills to Suggest New Ways to Coexist through Design
In the Department of Symbiotic Design, students acquire the creativity and expressiveness to propose new ways of coexistence through design.
Students specifically focus on two areas, Design Concept, where they acquire the knowledge to discover problems and to solve them, and Design Expression, where they concretely express the concepts in media such as video presentation, graphic design, product design, and interior design. In a Project Subject, taken in the spring semester of the third year, students demonstrate the knowledge and techniques acquired to solve real-world regional problems centered in the Yokohama and Shonan areas, revealing that problem-solving skills are the same as design skills through their lived experiences.
College of Education

Becoming Teachers Who Support Children and Fulfill the Needs of Society
Students view child development through mental, physical and lifelong learning perspectives, and they cultivate the ability to provide practical solutions to the multifaceted issues relating to modern childcare and education. Students develop practical skills for childcare and gain a deeper understanding of children while working with Kanto-Gakuin-affiliated schools.
Department of Child Development
Cultivating Teachers Needed by a Diverse Society by Acquiring a Rich Education and Humanity 
Students examine child development from mental and physical perspectives and consider its lifelong implications, cultivating the ability to provide practical solutions to the multifaceted issues related to modern childcare and education. In the Department of Child Development, we emphasize practical training and demonstrations in collaboration with Kanto Gakuin schools in order to acquire the ability to utilize theory in the real-world. In cooperation with childcare centers and elementary schools, we provide opportunities to understand environments of support for children from the fields of education, childcare, psychology, health, and welfare, allowing students to acquire a rich educational background. We produce the teachers needed by children, teachers who have acquired a wealth of education and humanity by grasping the needs of society, the community, and the home.
College of Nutrition

Becoming Scientific Food and Nutrition Specialists
Students examine the functions and biological mechanisms of food based on the themes of diet and health management, conducting fundamental and clinical research about food, nutrition, and health, leading to careers in related fields.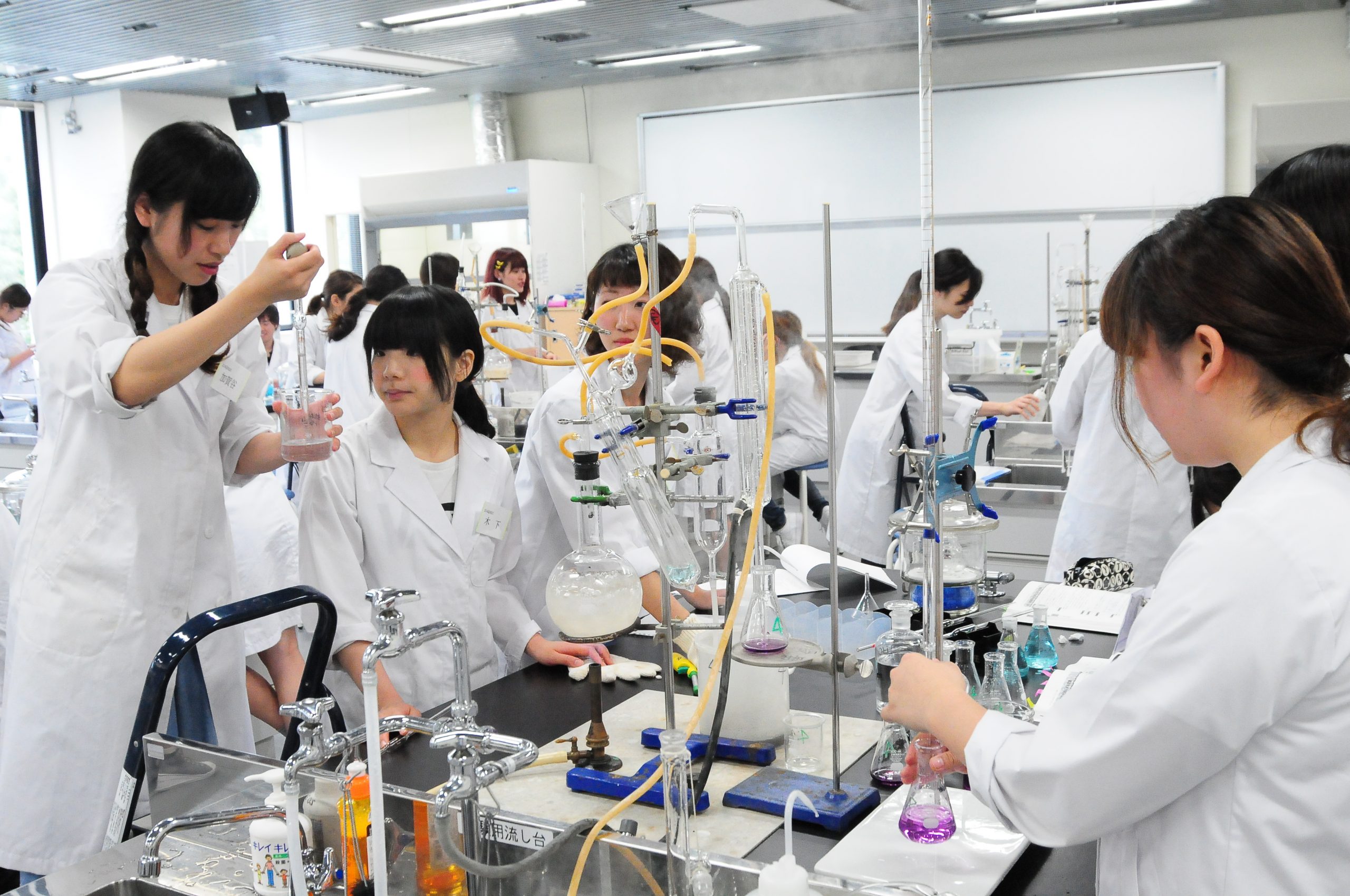 Department of Nutrition Dietetics
Becoming Registered Dietitians Backed by a Wide Range of Expertise in Food and Nutrition and Rich in Humanity
Under the themes of "Dietary Habits" and "Health Management", students acquire knowledge of the functions of foods and the mechanics of living organisms and conduct basic and clinical research on food, nutrition, and health. In the first year, students acquire basic knowledge about nutrition, and in the third year, they learn specialized knowledge and skills for practical training at medical facilities, schools, and health centers. In particular, students can take advantage of having a well-developed support system for passing the national examination for registered dietitians, for which Kanto Gakuin University maintains a high pass rate every year. In addition to the nutritional guidance necessary for nutritional management, students study a wide range of fields that support the improvement of lifestyles and eating habits, such as public health and cooking techniques based on culinary science. We foster trained registered dietitians who are rich in humanity.
College of Nursing

Nursing Professionals on Lifelong Educational Journeys
In the fields of healthcare, medicine, and welfare, nurses who can respond to the increasing sophistication of medicine, meet the diverse needs of patients and families, and practice team medicine are in high demand. The Faculty of Nursing has a fully realized curriculum that includes working relationships with nearby general hospitals.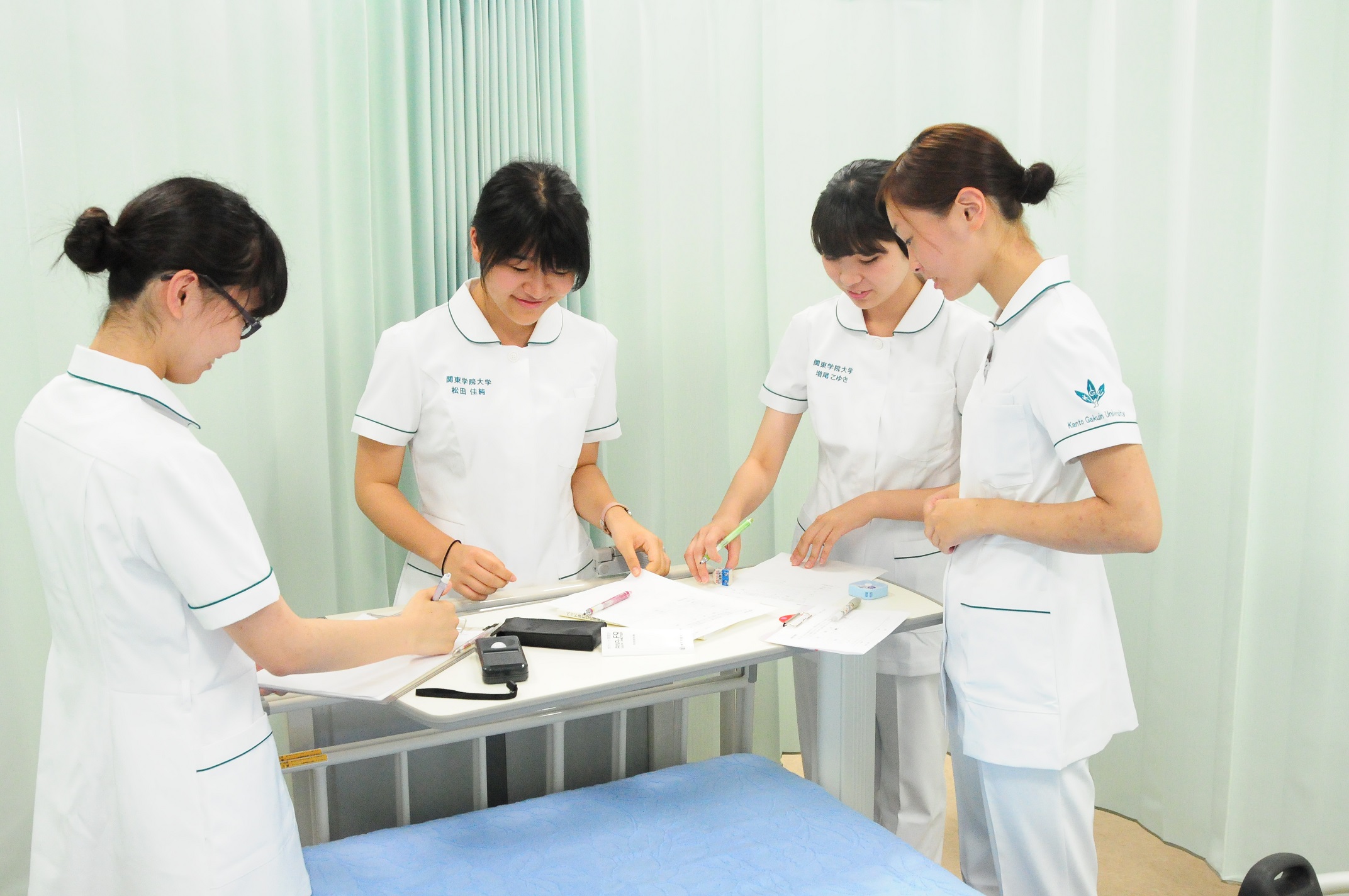 Department of Nursing
Cultivating Nursing Professionals Acquiring Practical Nursing Skills on Lifelong Educational Journeys
We place value on cultivating a high level of practical skills through interactive small-group education that puts the focus on each individual student and emphasizes experiential learning.
By learning to respond to the sophistication of medical care, patient diversity, family needs, and the promotion of team medical care, we cultivate the humanity, ethics, scientific thinking, judgment, and abilities in coordination that are required in the nursing field. Additionally, in line with a curriculum that specializes in acquisition of nurse qualifications, clinical training begins in the second half of the first year, matched with students' pace of growth, and a total of 23 weeks of training are arranged in stages. Through smooth cooperation with more than 70 nearby facilities, we have developed an education that emphasizes students' practical experience and self-reflection, clarifies challenges to growth as nursing professionals, and develops the ability to improve independently.